A brand is much more than a name. A brand is all about relationships. It's how we connect to people and how they connect to us. It is the perception customers have about a product or service. A brand conveys a quality and an experience and can even spark certain emotions. For example, what is the first thing that comes to mind when you see a bottle of Coca-Cola? Some of us might have glimpses of Santa Claus smiling and enjoying a cold bottle of Coke while others start humming "I'd Like to Teach the World to Sing". A brand is what people feel and think about a company. It can be good or bad depending on their previous experiences or the reputation of the company in general.
Brand image is strong and persuasive and something every business owner should pay close attention to. Online, a brand should distribute information about its company on every platform including websites, social media accounts, reviews on 3rd party sites, search engine results and more. Managing the information that is out there about your company is essential in today's competitive market.
He Said, She Said.
Online Brand Management is serious business. The majority of people today research a product online before they buy. They search the business, the product, reviews, comparisons and anything else they want to know. If a bad review is the first thing that pops up about your company in a search…it certainly is not the best first impression you could make.
It's a "sharing" world out there. Now more than ever, it is important to have satisfied customers. People share their experiences with a company, good or bad. Make sure your online brand perception is not tarnished and is not turning customers away without you even knowing it. Deliver a consistent message across all platforms, including social media—after all, your reputation is at stake.
There's a Software to Help.
You want all the information that represents your company to be cohesive and consistent. Although it may seem like a daunting task,
allySites
has made it much easier to manage all this information with an online brand management software. Here are a few of the benefits the software offers:
Monitors and compares online reviews.
Checks your ranking in local and web searches.
Checks your business information on multiple directory sites to make sure it is accurate.
Finds out who is talking about your brand on social media and pulls those mentions into the fold so you can take full advantage to manage your comments.
Let's look at these in a little more detail.
Reviews
Reviews are an important aspect of brand management that cannot go unmonitored. Reviews have the power to influence consumers in a big way.
Consumers trust other consumers
with the assumption their claims are unbiased and truthful. According to a survey by
BrightLocal
, 88% of consumers trust online reviews as much as personal recommendations. In addition, 80% of consumers have not purchased a product due to a bad review they read online. Here are some things you can do to take a proactive stance on your reviews.
Be aware of what people are saying. Do a web search on your own company. Check Yelp, TripAdvisor, Google, or a host of other online review companies.
Make it easy for satisfied customers to leave good reviews. There are all kinds of options here. Maybe a pop-up box that says "Tell us how we did!" or a star rating system that's easy to click on. And then…share, share, share!
A bad review is not the end of the world. The important thing is not to ignore it. Contact the disgruntled customer privately and ask them what can be done to remedy the situation or offer an incentive for their next purchase. Sometimes you can't do anything but at least make an effort.
Remember good reviews = good business = good revenue.
Local and Web Search Engine Optimization
Our reputation management software displays your ranking for keywords in local and organic search results. What is a keyword? A
keyword
is a word or phrase that describes the content of a web page. If someone is looking for "the best pepperoni pizza", the results will include pages that contain the phrase "best pepperoni pizza". Results will also include pages that contain part of the phrase such as the words "pepperoni pizza".
Local search
allows you to obtain a geographically specific search result on directories, search engines and maps. These search queries not only include "what" the visitor is searching, but also "where" information such as street address, city name, postal code, etc. For example: Hotels Nashville Tennessee, Chinese Restaurant 37143.
Organic search
is using a search engine like Google, Yahoo or Bing to receive a list of results that appear because of their relevance to the search terms. Here is how our software works in local and web search optimization:
We track your keyword results based on the location of your stores.
Our software will show your rankings over time. This will help identify keyword search results that are improving or those that need additional focus.
The best way to improve your keyword results is to create content on your website about that keyword. It is important to create original content and not to copy content that is found elsewhere on the internet. 
Directories Listings' Accuracy
Search engines compare your listing's data across directory sites. Directory websites include Yelp, Facebook, Yellowpages, Tripadvisor, Yahoo and Zamato, just to name a few. They look for consistency with the spelling of your business name, phone number, URL and physical address. Search engines rank businesses with consistent information higher than those competing businesses with varying information found across the internet.

This is an area where the software is a big help as well. Who wants to spend their time checking directory listings? That's kind of like reading the phone book. With the software, the listings are summarized and then the needed corrections can be made accordingly.
Social Media Analytics
Everyday more people rely on social media and review websites to help them make purchasing decisions. Our software pulls mentions of your brand from social media into the same management area as your reviews. From our dashboard, you can read a summary of your business being mentioned and go straight to the source. Then you can share the good news internally or on your social media pages.

Social media pages are the places where people are having conversations about you, your brand, your industry, and current events that relate to what you're selling. Get involved and share your expertise. People will love the interaction and it will help drive traffic to your website. One bit of advice, avoid any hard selling. Instead, be a trusted source of information. This is how loyal customers are made.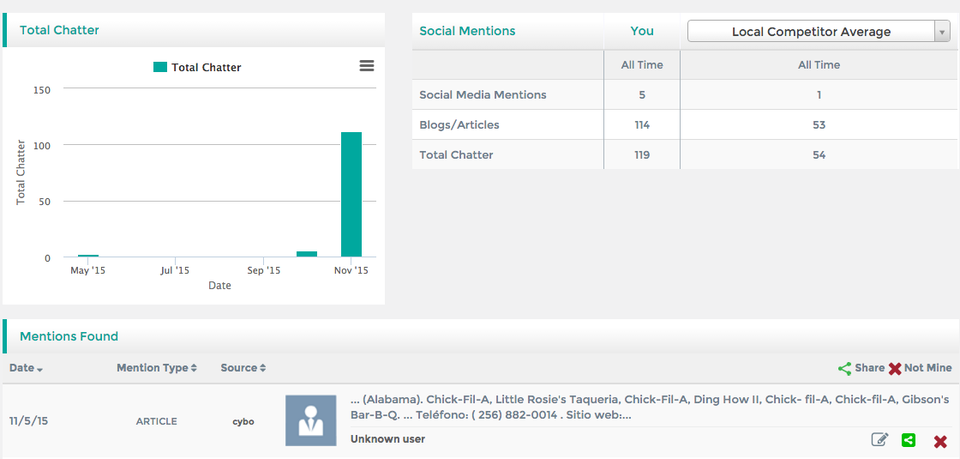 Be proactive when it comes to online brand management. It can be difficult and sometimes impossible to clean up a reputation once negative comments appear online. We at allySites are here to help you manage your brand and reputation in a very convenient way.
Have more questions?